1/48 Eduard Siemens-Schuckert SSD.IIIa
Click on the thumbnail for a full size image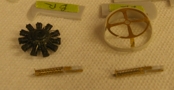 "SSW D.III no serial noted, insignia a white "V" may have belonged at one time to Ltn. Seppl Veltjens (NOT Vallendor) of Jasta 15/ J.G.II. as a reserve aircraft. The headrest identifies it as a machine from the first series of 20; the balanced ailerons show this photo was taken after it was returned to the factory to be upgraded with a new engine, wings and other modifications. These images may have been taken at Jasta 15 or another unit that it was later assigned to."
If you are building WW I models, you would do well to have a look at Stephen's web site: http://www.wwi-n-plastic.com